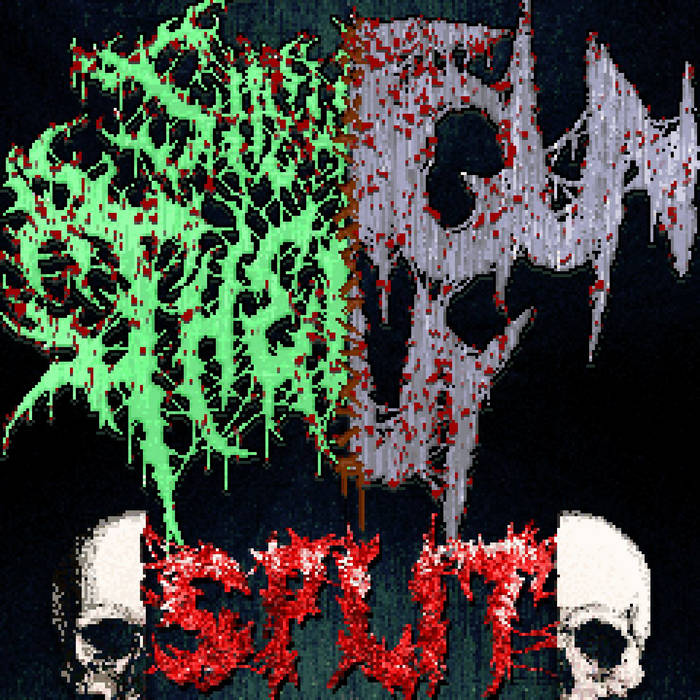 Artist-She Wants The D-Pad,Shotgun Guy
Album-Brain Matter Split
Date-May 2016
Country-Henderson,Kentucky and Branson,Missouri
Facebook-
Shotgun Guy
,
She Wants The D-Pad
Genre:Nintendocore
Track List:
1.Putrid Sea Of Demon Guts (DOOM) 01:19
2.Vivis Revenge (Ft. Potato Hate Explosion, Unicorn Hole, Shotgun Guy) 02:44
3.Ballad O' Bowser (Ft. Mitch Ryan) 03:31
4.Pokémon Gym Battle Cover (New Mix) 02:04
5.Shotgun Guy - Irresistible Force 02:09
6.Shotgun Guy - What The... 02:19
7.Shotgun Guy - Pee Break 01:52
8.Shotgun Guy - Gotta Save'em All (Ft. John Nelson of Unicorn Hole) 03:30
Brain Matter Split
Review By Travis
"Putrid Sea of Demon Guts" starts out with a cool sample from Doom. The opening riff to the song is very tech death. The song in it's entirety is pretty technical. I like the guitar tone and how the synth/8-bit/whatever you want to call it interacts with the guitar work. SWTDP showed some definite growth in regards to how he utilizes synth on this album. "Vivi's Revenge" has three guest vocalists. I like the low screams/gutturals.
The section around the 1 minute mark has a really strong old school nintendocore feel to it. I marked really hard for that part. Very strong second track. "Ballad O' Bowser" is a song I knew from Misunderstood Villains.The production on the album has been very strong thus far. I really enjoy SWTDP's guitar work on every song. I like that the guitar used is real and has a great tone. The fact that this whole album utilizes real guitar (by both artists) is very impressive. I personally find that guitar is one of the harder to things to emulate the sound of and find real guitar playing just generally sounds awesome. The "Pokemon Gym Battle Cover" is very legit. SWTDP has a fairly unique sound and I think that shines on this release. The uniqueness comes in the way of his production. The production in nescore releases seems to be improving constantly and
I think SWTDP is a shining example of this phenomenon. "Vivi's Revenge Instrumental" is cool to hear without the vocals layered over top. The SWTDP portion of this album has wicked production, great guitar playing, and a "techy" feel.

Irresistible Force seamlessly fits in on the album. It is heavy. Shotgun Guy has a fairly distinct sound and this holds true on this song. Driving guitar is mixed with insane synth and raw vocals.
Parts of this track sound absolutely chaotic (in a good way). Great breakdown at the 1:30 mark after an intense noise like section. "What The..." has a pretty cool intro before entering into chaos.
Shotgun Guy delivers the low gutturals on this song. It is very "nintendocore" (in my opinion) to have the variety of screams he has over the different synth parts of these songs. This album has many features which got me into nintendocore when I started listening many years ago. "Pee Break" has an almost cheery intro. This song reminds me of some of the material Shotgun Guy released on "Baron Of Hell". It has that very distinct cheery sound that was featured on that album. I like the part around the 40 second mark. This song features some interesting guitar work. It appeared that Shotgun Guy deviated from doing rhythm guitars and threw in some crazy leads. The lead work on this album on gets stronger with each song. "Gotta Save Em All" has the "Baron Of Hell" feel to it as did the previous song. I really like the high screams mixed with the lows around the :40 mark. Nice guitar work on this track once again. Crazy leads. Chants with clean singing part around the 1:20 mark followed by nice guest vocals by Unicorn Hole. Really cool bridge at the 2:00 mark with some killer bass work. I really liked the heavy fx'ed screams at the three minute mark. This track served as a great finisher to the album .

"Brain Matter Split" is a very solid release by Shotgun Guy and She Wants The D-Pad. It is nice to see She Wants The D-Pad release something, while it is nice to see another strong release under the Shotgun Guy guy name. The strong points of this album are definitely the production values and guitar playing. I recommend checking this album out if you like heaviness and crazy synth.